Mini Rhubarb Crumble Pies!
Let me introduce you to your new favourite pie. It's tart and sweet with a deliciously flaky crust and a drool-worthy butter and brown sugar crumble. They're also mini, so that automatically makes them at least 10x cuter. The pie's filling is made primarily of rhubarb, which combines with a sour cream filling for a perfect pastel pink interior. Rhubarb is in season right now, so get some before its gone! Don't miss your chance to make these lovely mini rhubarb crumble pies! 
Full disclosure, I've never had a rhubarb pie before. After making these, I'm so mad at myself for not trying one sooner! The first time I even tried rhubarb was last year when I made this rhubarb lattice tart. The tart was definitely prettier, but I think the flavour of these mini pies has it beat.
Rhubarb definitely trumps apple in my opinion. It's now near the top of my favourite pies list. I think part of the allure of these mini rhubarb crumble pies is that you can only have them for a limited time. I've only ever seen rhubarb around this time of year in Ontario, so that leaves you with a tiny window for making these delicious little gems.
These mini rhubarb crumble pies are also amazing because of the crumble!
It's got the perfect sweet-butter-crunch ratio and is a refreshing change from a classic pie crust top. I also sort of fell in love with how perfectly pastel pink the filling was. It made for a such a dainty and pretty look! 
While I can take credit for how pretty these mini rhubarb crumble pies look, I can't take credit for the recipe. The original recipe came from my friend Ben's Aunt Allison. Tash made it the other day and that crumble sounded so good that I knew I had to make it too. The original recipe is for a single regular sized pie. I tried to be a bit different by using the recipe to make mini pies instead. I can never resist anything mini - they're just too cute!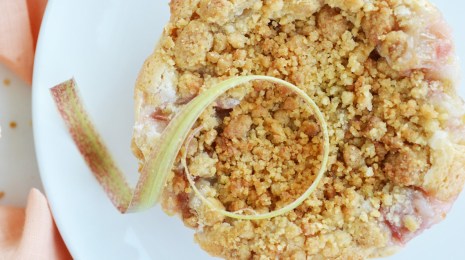 | | |
| --- | --- |
| | |
Whisk together the granulated sugar and first amount of flour. Once combined, add the sour cream and whisk until smooth. Set aside.

Now for the crumble, we are going to combine the melted butter, brown sugar and second quantity of flour. Mix using a fork until it resembles a crumbly texture. Set aside.

Preheat oven to 450 degrees Fahrenheit.

Cut your pie dough into 6 equal pieces. I just eye-balled mine, but you can weight them if you want to ensure more accuracy.

Take one piece of pie dough at a time and roll it out until it is about 1.5" larger than your pie plate (keep the rest of the pie dough covered under plastic wrap so that it doesn't dry out). I used mini non stick pie plates that were about 4" in diameter. Mine were from homesense, but you can find similar ones here: Norpro 3911 Nonstick Mini Pie Pans, Set of 4

Once you have your pie dough in all of your pans, trim off any excess on the edges and lightly score the bottom of your pies. I only had a very small amount of pie dough left over, so I rolled it out very thin and cut it into super tiny pieces to add to my crumble. No waste this way!

Fill each pie with the chopped rhubarb and then follow with the sour cream mixture.

Once each pie has the sour cream mixture, give them a few taps to try and encourage the mixture to sink to the bottom. Spread it around with a spatula to try and ensure that it is distributed evenly.

Evenly sprinkle the crumble over each pie.

Arrange pies on a large parchment lined baking sheet. Sometimes, the filling can bubble over.

Place in oven and bake at 450 for 15 minutes, then reduce heat to 350 and continue baking for an additional 30 minutes or until crumble and pie shells are golden.

Remove from oven and allow to cool to room temperature before serving.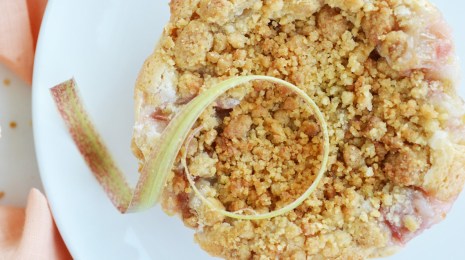 See? SO cute, right? And I promise you, they are oh so delicious! Find some rhubarb at your local farmers market this weekend so you can make your new favourite pie!
We still have 3 more of these mini rhubarb crumble pies in the fridge as I write this, but I have a feeling that they won't last long. I even had one of them for breakfast this morning. It's fruit though, so it's ok right? 😉
xo, tess.

26 responses to "Mini Rhubarb Crumble Pies!"