Amazing Italian Pistachio Cookies
Oh man, these took me back! Way back to my childhood when we would visit relatives and there would always be a plate of Italian cookies out to eat. You may not know, given my pale complexion and blue eyes, but I'm actually half Italian. Hence, we visited a lot of Italian relatives that had said cookies. Italian cookies tend to be on the less sweet side. They also often have some kind of nuts in them (think amaretti) along with lemon. I can't remember having these Italian Pistachio Cookies per say, but they have all the makings of a delicious Italian cookie.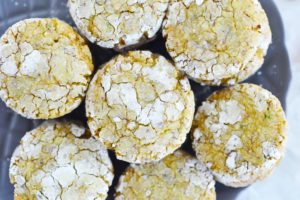 I was inspired to make these after I had one from Forno Cultura on King Street. I'm working on a blog post for my day job and had to try cookies from there for the post. I heard they were good, but I didn't expect the onslaught of zesty lemon and pistachio flavour, along with a huge dose of nostalgia. The texture was perfect - the ground nuts offered the slightest crunch to this chewy delight. As soon as I finished the cookie, I wanted another. Never one to deny myself a treat, I decided I HAD to try and recreate these cookies on the weekend.
Given that I had similar cookies growing up, and that I've gone to school for baking, I had a pretty good idea what would go in them. I just wanted a guide as a starting point for my recipe. As always, I turned to Pinterest and was able to find a recipe in a few minutes. I adapted this recipe, making a few minor changes. I was so happy with the results that I ate all 2 dozen cookies in two days. They're that good! They're also super easy to make, so you can whip up a batch in no time!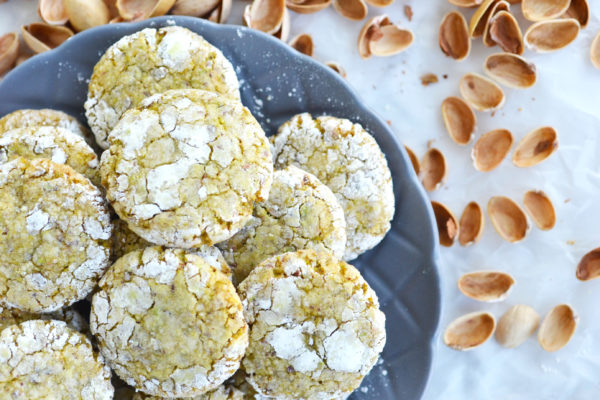 | | |
| --- | --- |
| | |
Preheat oven to 350 degrees Fahrenheit.

In a food processor (or magic bullet like I used), pulse the pistachios with half the granulated sugar until the pistachios are coarsely ground, but not too fine.

Transfer to a large bowl and add remaining sugar, almond flour, vanilla and lemon zest. Whisk to combine.

Add the egg white and honey and mix until the mixture will hold its shape when pressed together.

Prepare your baking tray and line it with parchment.

Take your icing sugar and sift it into a medium bowl.

Take a small bit of the cookie "dough" and roll it into a ball and then drop it into the icing sugar bowl, coat it in icing sugar and place on your baking tray.

Place balls on baking tray about 2 inches apart. Repeat until you have about 2 dozen balls.

In order to flatten the cookies, I took a cup that was the diameter that I wanted the cookies to be, and I used that to flatten them. That way, when the cookie was the same size as the bottom of the cup, I knew I could stop pressing the dough down. Also, make sure to wipe off any excess icing sugar that gets on the bottom of the cup because it can make dents in your cookies.

Once all the cookies have been flattened, bake them for about 15-18 minutes or until they are a light golden brown on the bottom.

Allow to cool before devouring.
*The recipe I based mine off of used unsalted raw pistachios, but I used salted and still loved the result
**If you're a baller and want to go all out and spend the money to use only pistachios, feel free!
I was SO happy with how my Italian Pistachio cookies came out. They're the perfect chewiness that you want from a cookie. Pistachio is also one of my favourite flavours so I was in heaven while eating these. The lemon complements the pistachios surprisingly well, and gives the cookies a ton of zesty flavour.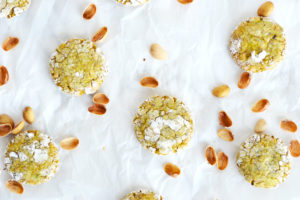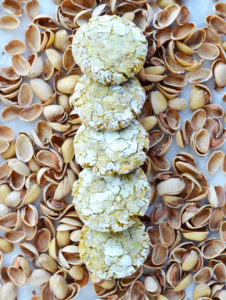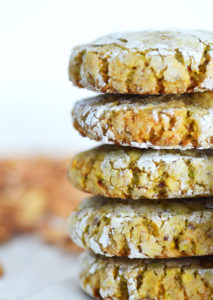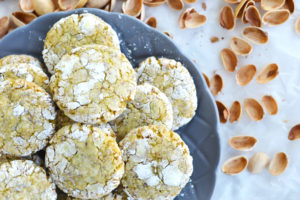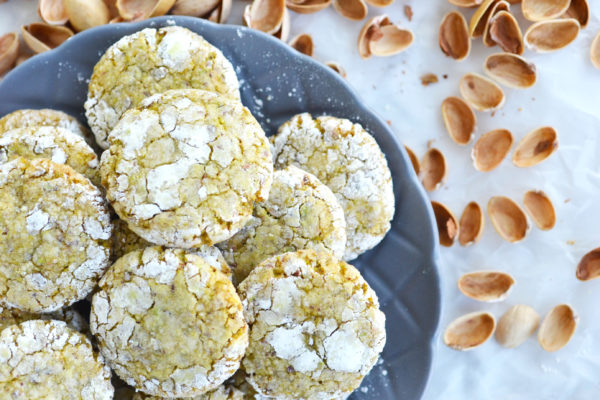 I enjoyed the cookies with some pistachio liquor that I brought back from Italy, but they would also be amazing with tea or coffee.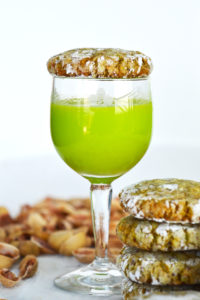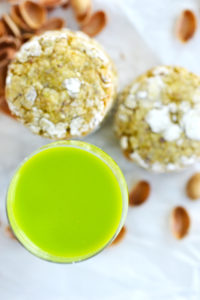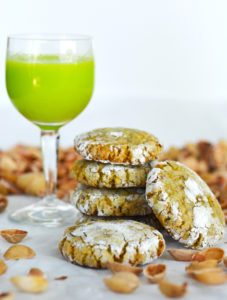 I'm already thinking of different nuts that I can use to make these cookies again. I think next time, I'm going to do hazelnuts and put in cocoa powder instead of lemon - they'll be Nutella flavoured!
If you grew up eating Italian cookies as well, I'd love to hear about it.
Also, let me know if you'd try making these Italian Pistachio Cookies for yourself!
xo, tess.
25 responses to "Amazing Italian Pistachio Cookies"