Pizza with Prosciutto, Fig Goat Cheese & Arugula
I could eat this pretty much everyday of my life. It's just amazing. It's one of those pizza's where the first time you try it, it's just so delicious that you make it again the next day because you just can't get enough.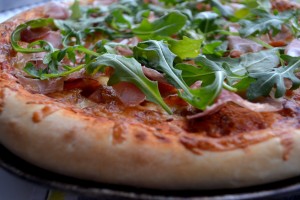 I was first introduced to this pizza by my friend Tash, and haven't looked back since. It's got the perfect combination of salty, sweet, cheesy, and peppery, all atop a perfectly crisp crust. It beats a classic takeout any day, with it's slightly different, but highly addictive topping combination.
This pizza starts out classic with a crispy, yet chewy crust, sauce, and mozzarella cheese, and then gets topped with fig goat cheese and prosciutto. After it's baked you then top the pizza with even more prosciutto, and some peppery arugula. The contrast between the cooked and uncooked prosciutto gives the pizza a great texture, and the peppery arugula is the perfect complement to the sweet and creamy fig goat cheese.
Are you drooling yet? Because you should be.
Pizza with Prosciutto, Fig Goat Cheese & Arugula
---
Yield: 1 14″ round pizza
Time: approx 35mins
Ingredients
1 ball of dough (I made my dough and used 1/2 of Bobby Flay's recipe here)
1/4 cup pizza sauce (adjust if you like more or less sauce)
1/3 brick grated mozzarella cheese
1/3 - 1/2  of a package of fig goat cheese, broken up into small chunks
4-5 slices thinly sliced prosciutto
a handful of arugula
Method
Preheat your oven to 425°F
Start by rolling out your ball of dough on a lightly floured surface until it is about 1″ larger than the diameter of your pan.
Once you've reached that size, transfer the dough to the pan and tuck the edges under to form your crust. If you don't like a thicker crust, just roll the dough to the diameter of your pan. 
Add the sauce
Sprinkle the mozzarella cheese on top
Plop down those little bits of goat cheese evenly around your pie
Once cooled slightly, so you don't burn the top of your mouth, tear up the remaining half of the prosciutto and place around the pizza, followed by the arugula
Slice & serve!
Full disclosure, I ate half of this pizza. It was just too tasty to stop after 2 slices. Even more disclosure, I actually made a second one so that Nick and I can bring it for our lunches for the next two days. You may be tempted to do the same! Enjoy!
xo, tess.

17 responses to "Pizza with Prosciutto, Fig Goat Cheese & Arugula"