TBT - France | An Evening in Paris
Our final drive in the RV from Chartres to Paris was true to form, in that we got horribly lost and drove around the city for well over an hour. We were trying to find the metro station Ponte De Versailles - not to be confused with the Palace of Versailles. We learnt that the hard way.
Anyways, after we finally dropped off the RV, we were on our own to navigate the metro and find our apartment.
It was in a nice are of town (what area of Paris isn't nice?) in the 15th Arrondisement. We stayed in a kind of hotel / apartment type of place, and I quite enjoyed the accommodations. We stayed on a fairly high floor, so we had a great view of the sprawling city of Paris before us.
After we unpacked our bags and set ourselves up, we stocked up on some groceries and then planned to go see the Eiffel Tower and just have a stroll around the city.
Being the control freak amazing planner that I am, I decided on the route we would take and how we would approach the Eiffel Tower. If you ask my mom, she will still make fun of me to this day that I planned how we would view the Eiffel Tower for the first time.
We were going to be approaching the tower around the time that the sun was setting, so I thought that it would be nice to view the tower from afar. Thus, I decided that we should enter from the East end of the Champ de Mars, so that we could take in the tower all at once.
It was such a gorgeous sight. Because of the time that we got to the tower, it was just starting to light up, which was nice to see. I was surprised at how packed the park was, considering it was just a Tuesday night. There were large groups of people just sitting around drinking wine. There were even vendors coming around trying to sell wine! Coming from Canada, where you would get in trouble for drinking in a park, it was very different to see people here drinking so freely.
We ended up sitting in the Champ de Mars for almost an hour watching the Eiffel Tower fully light up. After that, I couldn't stand to sit any longer, and wanted to be off exploring again. We walked right under the Eiffel Tower on our way to the Champs- Élysées and got some pretty cool shots.
After that, we made our way across the Seine, which was filled with boats cruising up and down the river.
It had gotten pretty dark by this time, so taking a lot of photos was out, but that was kind of nice because we just got to stroll around and enjoy the city.
Once we approached the Champs-Élysées, my eyes were peeled trying to find Ladurée. I spoke about trying French macarons for the first time when we were coming from Switzerland into France, but that was nothing compared to how excited I was to try the macarons in Paris from Ladurée.
It was still quite busy inside the shop, but I was amazed with all of the treats that they had inside. There were even small macaron towers in the windows and Laduree candles! (Which I should have bought).
After waiting in line and staring around me in awe, it was finally time to get my hands on some of the best macarons on the planet.
I chose orange blossom, ice mint, and vanilla. We only walked a few steps until I had to set them down and take a rather rushed photo before I could savour the perfection that is the macaron.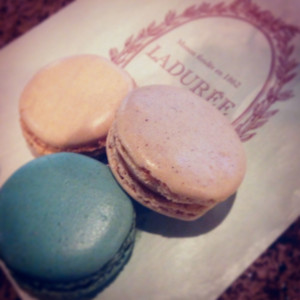 Of course, they were amazing and every bit as good as I dreamt they would be. I highly recommend you get over to France right now to try some 😉
We walked all the way up to the Arc de Triomphe, and then started walking back through some side streets to get back to our hotel.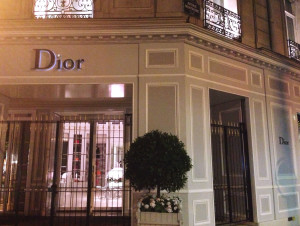 It was getting pretty late by this time, so we headed straight to bed so we could rest up for the next day. For our first full day in Paris, we tried our first Parisian restaurant, visited the Musee d'Orsay, Notre Dame, and saw the final leg of the Tour de France, so look for that in my next TBT post!
Have you ever been to Paris? Did you get to try the macarons from Ladurée? Let me know!
xo, tess.

One response to "TBT - France | An Evening in Paris"