Lavender Lemon Shortbread Cookies
I LOVE lavender. It's a lovely floral scent, and in this case, a lovely floral taste. Often times when I've had lavender in macarons, I've found that it's paired with chocolate. While I love the combination, I think an even more palette-pleasing combination is to combine it with lemon. In this case, a creamy lemon buttercream filling completes these perfect little shortbread sandwich cookies.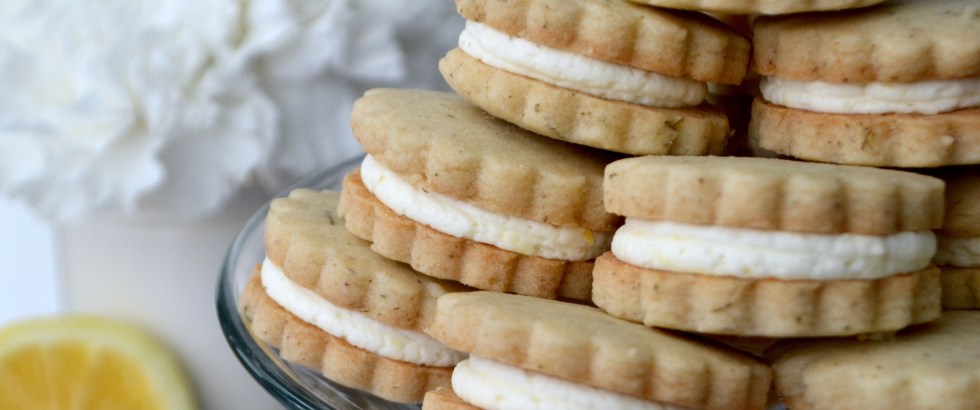 Originally, I had intended on piping these shortbread into rosettes, but the dough didn't come out quite as fluid as I would have hoped, so I cut them out instead. The original shortbread recipe is my Nonnies, and it's the classic whipped shortbread that she makes for Christmas. I devoured a bunch of them over the holidays, and knew that the light and airy texture would complement the lavender perfectly without overpowering it.
If you're looking for an excuse to make these cookies, look no further than February 13th, a.k.a Galentines Day (I've been binge watching Parks and Rec). These would be the perfect addition to your afternoon tea, or a mid morning brunch! The cookie is flaky and buttery, with a subtle hint of lavender, and is complemented by a tart, but creamy lemon buttercream filling. All of your ladies will love these cookies!
They lasted less than 24 hours in our house. After Nick tried one, he couldn't stop eating them. He even went to far as to say that they were "like crack", which I of course took as a complement, as any baker should.
Lavender Lemon Shortbread Cookies
---
Yield: approx. 2dz
Time: 1 hour including prep, baking & assembly
Ingredients
Lavender Shortbread Cookies:
1 cup room temperature butter
1/2 cup icing sugar
1 3/4 cups flour
2 tablespoons lavender buds - ground in a mortar and pestle, or chopped fine
Lemon Buttercream Filling:
38g room temperature cream cheese
76g room temperature butter
170g icing sugar
5g lemon zest
I know it's kind of strange that the icing is in grams and the rest of the recipe is in cups, but it's just a standard icing recipe that I modify for different flavours and the original is in grams, so I just go with it. Plus, grams is more accurate!
Method
Preheat oven to 325 °F
Cream your butter on high with the paddle until it is light and fluffy, scraping down the bowl and the paddle as needed.
While the butter is creaming, combine your flour, icing sugar and ground lavender and whisk to combine.
After the butter has become fluffy and lighter in colour, add your flour mixture slowly
Mix on low speed until the mixture resembles coarse crumbs.
Lightly flour your work surface and your rolling pin
Roll the dough out to about 1/4″ thick and using a scalloped or plain round cutter, cut out your shortbread rounds (Mine were 1 1/2″ in diameter).
Repeat until you have used all of your dough. There will probably be a small amount left over at the end for you to eat. Or throw out, totally your call, but I definitely ate mine, and it was delicious 😉
Using a board scraper, lift each of the cookies onto a parchment lined baking sheet.
Bake for 15 minutes and allow to fully cool.
While your cookies are cooling, prepare your lemon icing.
Start by beating the butter and cream cheese with a paddle until it is light and fluffy. Scrape down the bowl a couple times to ensure that nothing is stuck on the bottom.
Once light and fluffy, add your icing sugar and beat on low speed to combine.
Once combined, increase the speed to high and whip the icing until it becomes light and fluffy.
After the icing is fluffy enough, turn the speed back to low, add the lemon zest and beat until the lemon zest is well combined. Fill a piping bag with icing to fill the cookies with.
Taking your cooled cookies, start lining them up in rows with one row facing down and the second row beside it facing up as the tops of the cookies. Try to match them up so that if any came out imperfectly shaped, they are matched together.
Go down the rows of the upside down cookies and pipe a small swirl of icing in the middle of the cookie
Then go along the rows and lightly press the tops down onto the icing to create your sandwiches.
After all of your cookies have been sandwiched, simply eat & enjoy 🙂
Even though my original cookie plan didn't turn out, I think these ended up being super cute, as well as super tasty! They're a great little cookie to have because the floral flavour of the lavender really balances out the sweet, but slightly tart icing. The cookie comes out with subtle not-too-sweet flavours that make it the perfect addition for any occasion.
Let me know if you like to cook with lavender! If so, I hope you enjoy these lavender lemon shortbread cookies!
xo, tess.
SaveSave

30 responses to "Lavender Lemon Shortbread Cookies"