I used to be one of those people who killed any kind of plant that came into the house. A couple years ago, my friends made me a wooden succulent planter with 4 different (and adorable!) succulents for my birthday. Within a few months, 3 of them were dead and the 4th was hanging on for dear life. Sorry guys :( It was the ...
If you're anything like me and you love sewing, you probably have a huge bin filled with scrap fabric. Maybe you've taken it a step further and organized all your fabrics by colour in a craft room that I would probably be incredibly jealous of. It is literally one of my dreams to have a craft room one day. All my ...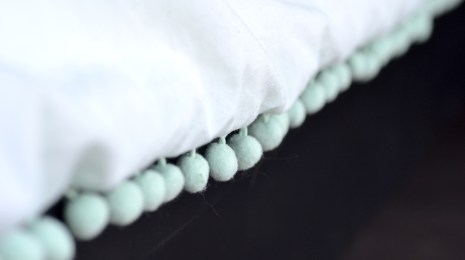 I was once so in love with our current duvet cover that I wanted the entire Urban Outfitters waterfall ruffle collection to fill my apartment in waves and waves of ruffley goodness. I ended up only getting the shams and the duvet cover, but was still overjoyed at how cute it looked. [caption id="attachment_3375" ...
It's been just over two months since Nick and I moved into our new place, and I think it's safe to say that we've made a ton of progress! There is still a ways to go, and my to do list is always growing, but I've recently made some progress on the gallery wall for our living room. For our gallery wall, I was a thinking that ...
I'm super excited to share this DIY mirror tutorial with you today because a) it's my first post of 2016 and b) I've never been so thrilled about a blog post before, and I hope you feel the same! If you're like me, and you read A Beautiful Mess religiously, then I'm sure you'll be familiar with the Gem mirror tutorial ...
When I made my DIY Glitter filled ornaments, I promised that I would share our fully decorated Christmas tree with you. I'm still going to do that, but the Martha Stewart-esque tree that both you and I anticipated didn't exactly come to fruition. That being said, I think it's still a cute tree, considering it's our ...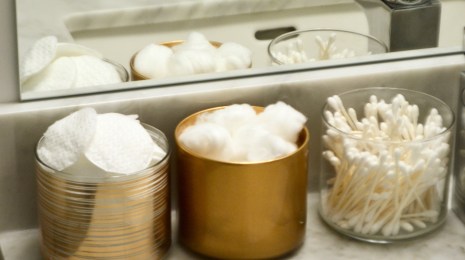 I've got two cute and easy DIY's for you today! Nothing ground-breaking, but they just add a little bit more visual appeal to how you store things. I'm sprucing up my spice jar and bathroom storage containers, but feel free to use these ideas in other areas of your home as well. Sometimes, it's the little things that count, ...