TBT | Exploring Paris + The Tour de France!
Our first full day exploring Paris could not have been more amazing. We woke up and had a small Parisian breakfast, and were then off and running about the city, seeing everything that we possibly could. Just a few blocks from our hotel, there was a flea market that had fresh meats and produce, as well as clothing and household items. My mom ended up being very French and bought herself a beret.


After the flea market, we took in the sights as we headed on over to the Boulevard St. Germain to enjoy the famed high end shopping street of Paris. Everywhere you looked, there were the gorgeous, yet classic Parisian buildings with their white exteriors and black roofs. I could have photographed each one for hours!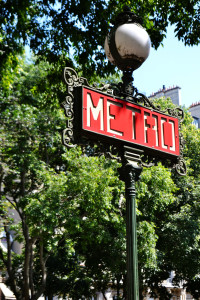 It was a blistering hot July day, so after a decent amount of walking, we settled in for lunch at a cafe, where we ate outside on the side walk, and felt oh-so-French. I don't remember what I got, but my dad had the fois gras. I was interested to try this French delicacy in the motherland, and found that I didn't mind it. However, it had an after taste that I wasn't a huge fan of. After we had re-fueled, it was over to the Musee D'Orsay to check out our first museum in Paris.
There was a bit of a wait to get into the museum, but once we were in, and I had my map in hand, we were off to a running start. The museum is quite large, and I don't think we even ended up seeing all of it, but we were able to see a lot of works that I recognized from famous artists. I didn't end up taking any photos in the museum - mostly because there were always too many people in front of a piece to get a decent shot. However, here is a quick guide to some of the most notable pieces in the museum:
Notable Artworks - Musee d'Orsay, Paris
Le Dejeurner sur l'herbe - Edouard Manet
Whistler's Mother - James Abbot McNiell Whistler
The Gleaners - Jean Francois Millet
Bal du Moulin de la Galette - Pierre-Auguste Renoir
The Ballet Class - Edgar Degas
Rouen Cathedral - Full Sunlight - Claude Monet
Le Parlement - Claude Monet
Self portrait - Vincent Van Gogh
The Bedroom - Vincent Van Gogh
Jane Avril dansant - Henri de Toulouse-Lautrec
After having seen some of these works, we found ourselves by the cafe in the museum, which was situated right beside a giant clock, as well as a terrace that overlooked the Seine. I wasted no time enjoying the view from the balcony and snapping some photos.
Once we got some fresh air, we saw a few more galleries in the museum, and then made our way outside again and started walking along the Seine until we came to Ponte des Arts a.k.a the Love Lock Bridge. My parents didn't add a lock to the bridge (nor did I, being tragically single at the time), but it was still cool to look at. Unfortunately, it has since been taken down, so I'm really glad that I got to see the bridge while all the locks were still on it!
As we walked further on along the river, we found a number of street vendors selling illustrations, books and records. They were interesting to look at, and I'm kicking myself in the ass for not buying something while I was there!
By this time, we were almost at Notre Dame, so we headed over to get a good look at the famed Cathedral. It's actually located on the Ile de la Cite, but is accessible by many bridges.  It's a gorgeous sight from the front, and there are even stands set up for visitors to sit on while they marvel at the sight. We didn't end up going in the Cathedral, but decided to appreciate the exterior instead. Notre Dame is another stunning example of Gothic Architecture, so you can imagine my delight at being able to take in all of the flying buttresses. I actually think that the back of the cathedral is nicer than the front, as it has a number of flying buttresses that go in a circular shape and make for gorgeous photos.
Continuing on our walk, we made our way towards the Louvre and stopped to take some photos there. They were starting to set up the barriers for the final leg of the Tour de France, but we enjoyed walking through the Jardin de Tuileries and taking in our surroundings.
We started to see some fans gathering for the Tour de France, and they were already so crazy! There were a bunch of people wearing flags from Norway and they had set up a small corner with banners and flags and tons of people.
By the time the cyclists were starting to be seen down the Rue de Rivoli, the crowd was CRAZY! It was at least 10-15 people deep and it was kind of hard to be able to see anything. Thus, my dad decided that it would be a good idea to follow suit of some teenage boys, and climb up a light post to take photos. Consequently, people started taking photos of him. I wonder to this day, if they are in someone else's album from their trip to France. Side note: my dad is an avid cyclist, so this was pretty epic for him. Any other year, he records each leg of the tour and makes sure that he watches the entire thing.
After the Tour was over and the excitement started to die down, we made our way back to the hotel in the dusk. Pretty sure I nearly collapsed into bed after all that walking.
For our next day in Paris, we head to Pere Lachaise cemetery, The Louvre, and try some more macarons! Stay tuned 🙂
Also, let me know about your trip to Paris. What have you done, or are planning to do?!
xo, tess.

2 responses to "TBT | Exploring Paris + The Tour de France!"