How To Guide: Homemade Sausage
I've been spoiled. After years of having homemade sausage, I can't go back to buying store bought. It just doesn't compare. My dad's side of the family has been making their own homemade sausage for over 5 years now, and store bought sausage has nothing on these! My family doesn't put any anise of coriander seeds in their sausage, which I love, because I find those flavours to be very off-putting in sausage. Instead, we use fresh herbs, like rosemary, parsley, and garlic grown in my parents garden.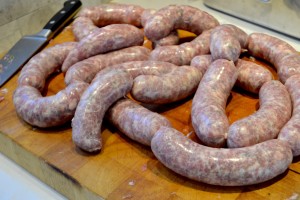 I had never made sausage myself before, but after Nick fell in love with it too, my dad offered to have us over for a weekend to make some sausage. I think before my dad had even finished his sentence, Nick had already agreed. We ended up making sausage this past weekend, and although it is a bit time consuming, and there is a fair amount of equipment involved, it was a lot of fun, and went fairly quickly with three of us pitching in. I think it took about 4 hours or so to make almost 40 lbs of sausage!
If you're still not convinced to make your own homemade sausage, here's why I love making them:
No preservatives!
You pick the meat and cut it yourself, so you know exactly what is going in your sausage! A lot of the time, veins and other small tendons are ground into the meat when you buy store bought. When doing it yourself, you can guarantee that your sausage is made with pure pork.
You can customize the flavours. We chose to do a garlic and herb, but my dad also likes to do a hot sausage, plain or just garlic flavoured varieties.
Making a large batch of sausage will last you for a long time, and will end up being much cheaper than purchasing a package of sausage at a time from your grocery store.
Make a weekend of it with your friends and have a delicious meal to reward you for all your hard work
By now, I'm sure you're on board, so lets get started.
Equipment
There are certain pieces of specialty equipment that you need to make sausage. It is a bit of an investment at first, but if you are planning on making homemade sausage multiple times, it pays off to invest in good quality, stainless steel equipment. You will need:
a meat grinder
a sausage stuffer
a large lasagna sized pan
stainless steel bowls for your chopped meat
large size freezer bags for storing all of your sausage.
Ingredients
There are a few basic ingredients in sausage, but feel free to add your own flavours to the meat! This recipe yields approx. 20lbs of pork sausage.
Hog casings - this is what you will be stuffing the sausage in. They come dry packed in salt, and 1 package of casings made almost 40lbs of sausage.
20 lb pork shoulder
5 tbsp salt
4 tbsp pepper
1/4 cup fresh rosemary*
1/4 cup fresh parsley*
Homemade Sausage: A How to Guide
Purchase your equipment. My dad and grandmother have high quality stainless steel equipment. It will last you for decades, and as long as you use it enough, it's an investment worth making. Note: The sausage stuffer comes with different sized nozzles, so you can make anything from breakfast sausage to salami to larger types of cold cuts. There are also attachments for a Kitchen Aid mixer, but I know from my dad's experience that he didn't care for them.
Purchase your meat. My dad graciously bought us a 20lb pork shoulder to use for making sausage. You can buy a leg too, but it will just have a bit more fat on it.
Place your equipment outside so that it stays cold - this is key when making homemade sausage.
Trim off the skin and remove any large chunks of fat, but remember that you still want a good amount for your sausage, so try not to make the meat too lean.
After the skin has been taken off, begin to cut your mean into chunks. No size is really necessary, but make sure that they will be able to fit in the opening of the meat grinder.
Bring your grinder in from outside, set one of your lasagna pans under the opening where the meat comes out and begin grinding your meat. In order to get a good distribution of fat in your sausage, my dad told me that every fourth piece that you put in the grinder should be a fatty piece.
As you are grinding the meat, add some ice cubes to the ground meat to keep it cold (Don't worry, these will come out before stuffing the sausage)
Once all the meat is ground, throw a few ice cubes in the opening of the grinder and use the plunger to gently push the ice cubes down, but don't force them through the grinder. This will allow all of the meat to be pushed through.
Now that your meat is ground, set it outside for about 20 minutes to allow it to become cold again.
At this point, you want to take your hog casings and rehydrate them by setting them in a bowl of water. They will stay in the water until you start using them.
Next, bring in your meat from outside and remove the ice cubes. You're going to want to season your meat with salt and pepper first. We started with 5tbsp of salt and 4tbsp of pepper. Sprinkle each of these onto your meat and then get your hands in there and mix it in until the s&p are evenly distributed.

Take about a tablespoon of the meat and fry it up in a pan until it is cooked. Taste it. Does it have enough salt and pepper? If not add more, but if you're happy with the flavour so far, you can start stuffing the sausage for a plain variety, or move on to add your herbs.
Mix in your minced herbs the same way you mixed in your salt and pepper until they are well combined. If you want to cook up another tablespoon of your sausage and taste it to make sure you have enough herbs, feel free. 
Now the real fun begins. Bring in your sausage stuffer from outside and choose the nozzle the size of the sausage you are making. I think the one we used was a 1″ nozzle, which is a standards size for sausage. The sausage comes out bigger than than the 1″ opening.
Pick out an end of a piece of the casings that are sitting in water an keep pulling until you find the other end. Now open an end and fit it around the nozzle of the sausage stuffer. Keep threading the casings onto the nozzle until you have reached the end. Allow the casing to hang off the end a little bit.
Now, fill the hopper with about half of your sausage stuffing and begin to turn it, which will push the meat down and force out any air.
Hold the end of the casing shut, and with your left hand, place it on the nozzle applying pressure and your right hand will be on the end of the casing, guiding the sausage as it come out of the nozzle. Go slowly at first until you get a hang of how much pressure you need to apply. You don't want any air pockets in the sausage, and you want the meat to be packed in there firmly. The video below is Nick and my dad filling sausage. They go pretty quickly, but hopefully this will give you a bit of an idea for how to place your hands.
Continue filling the casing until you have almost reached the end. Stop turning the handle once you have about an inch of casing left on the nozzle. Repeat for the remainder of your meat. There will probably be a small amount left at the end that you can just scrape out of the machine and fry up to eat right then and there!
Now that you have all of your sausage done, it's time to start cutting and packaging them in freezer bags. For most of our sausage, I just cut them into about 5 inch pieces with a sharp knife, leaving the end open. You can try to twist them into links, but just be careful, as they can burst if there is too much pressure. I found that I was able to twist some of the first links that we did because I wasn't applying enough pressure when we were putting the meat in the casing, so I was able to twist them later and ended up with nicely stuffed sausage.
Lastly, label the freezer bags and store your sausage for later use! Now all you have to do is clean your equipment and then sit back and enjoy never having to eat store bought sausage again!
My dad cautioned us when we left that we have to make sure that we eat the sausage with fresh homemade bread, which would of course be the ultimate in deliciousness. Growing up, whenever we had sausage, it was pretty much guaranteed that we were having it with roasted potatoes, swiss chard or spinach and fresh buns. The combination of these things makes for such an amazing meal. To me it's one of the best forms of comfort food!
But, there are also a number of ways to eat your homemade sausage. Make a sausage and pepper skillet dinner, or a sausage and white bean soup. Even take it out of the casing and make sausage stuffed peppers or scramble it into your eggs in the morning for an added kick of protein.
Now that we have a ton of sausage to work with, I'm going to be working on some great recipes where sausage is the star ingredient, so stay tuned for those!
Let me know what you think of the how-to guide, or if you'e ever attempted to make homemade sausage. I'd love to hear how yours came out!
xo, tess.

24 responses to "How To Guide: Homemade Sausage"