Macarons from Petit Nuage, Toronto
I have been dying to try the macarons from Petit Nuage since Easter. After discovering their beautifully curated Instagram I knew I had to sample the divine looking macarons. Every weekend I would try to go, but something would come up. Finally, that all changed this past weekend and I was able to try their delicious treats!
In case you're not aware, I'm a huge fan of French macarons. I've made it my mission to try as many different places around the city that I can and share my thoughts with all of you! Over the years, I've tried most macaron places in the city. They may not have been featured on the blog yet, but I fully intend on going back so I can share my findings with you all 🙂 For the ones that I have featured, you can check out my macaron archives here.
Petit Nuage is definitely the smallest of any patisserie that I have been to, but the flavours were huge! I expected a small storefront, but was instead greeted by a tiny powder room sized store! It's super cute and has an equally tiny and cute display case of macarons. Before even going into the store, I knew I was going to get 6. I've heard way too many good things to not get a box.  The boxes are also covered in the most adorable drawings of cats and desserts, which I could never pass up.
They had about 10 different flavours to choose from, all of which sounded amazing. I chose lemon lavender, salted caramel, key lime pie, mojito, thai milk chocolate and strawberry basil.
I honestly have never been so impressed with all the macarons from a single purchase! The texture of each cookie melded perfectly with the silky smooth fillings. Each macaron was so full of flavour that it would have been instantly recognizable without knowing the names.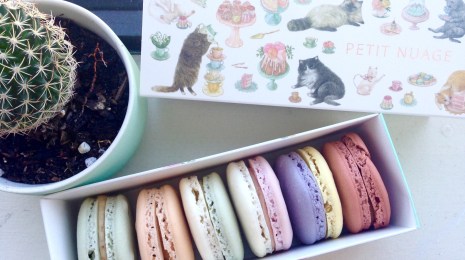 The lemon lavender is one of my favourite combinations ever, so I was thrilled to try it in macaron form. The filling is tangy and lemony with perfect floral notes of lavender.
The salted caramel is honestly one of the best I have ever had. The caramel is the perfect texture. It's not too runny or so thick that it stuck to my teeth. The balance of sweet and salty is also on point.
The Key lime pie is phenomenal and tasted exactly like the real thing!
Mojitos are my favourite drink, so being able to enjoy one in macaron form was heaven. It's the perfect balance of lime and mint mixed together in a rich buttercream.
The thai milk chocolate is kind of like a thai iced tea flavour - which I recently learned I adore! I highly recommend this one!
Lastly, the strawberry basil is also super flavourful. It's light on the basil and heavy on the strawberry which I loved.
To accompany my macarons, I purchased an iced matcha latte. The latte is a little on the steep side price-wise coming in at $5, but still has the delicious green tea flavour I know and love.
I'm definitely thrilled that I finally sampled the macarons from Petit Nuage. They delivered on everything I wanted in a macaron and had some really interesting flavours to choose from. I do love being able to have my classics like pistachio and raspberry, but every once in a while it's nice to leave your comfort zone and try something new. I'll definitely be going back here to try the other flavours of macarons that I didn't get to try the first time. I also might start collecting their cat boxes. They're just too adorable not to.
Store: Petit Nuage
Location: 707 Dundas Street West - Southeast Corner of Dundas and Bathurst kind of behind the library
Price: average for macarons - I believe it was $14 for a box of 6
Hours: Closed Sunday and Wednesday. Open approximately 12-7:00 all other days of the week.
Offers: macarons, cream puffs, opera cakes and some tea and coffee based drinks
Instagram: check it out here
Have you tried the macarons from Petit Nuage? Let me know what you think!
xo, tess.

2 responses to "Macarons from Petit Nuage, Toronto"