TBT - Italy | Rome
A couple days ago, I posted my DIY Travel Keepsake Boxes filled with mementos from my trip to Europe. This is the trip that inspired those boxes. I often look back on these photos and wish I was still back in Europe, specifically Italy. There's just so much culture and history everywhere you look. I don't know if it was because it was the first location that we went to, but I absolutely fell in love with Rome. Everywhere you looked there were carved statues and piazzas around every corner with beautiful carved fountains and monuments from some of the most famous artists/sculptors of all time. As an art/design student it was a dream come true to see all of these things in person.
We basically hit the ground running as soon as we were in the city (and refreshed from a quick nap). We got a map of Rome, and I found myself the appointed navigator - largely due in part to the fact that my parents couldn't read the map without their glasses. We meandered our way through the streets, stopped for a quick bite, and then wandered into the first church we found.
After going into another church and wandering down the streets, we found ourselves headed in the direction of the Colosseum. Even seeing it from far away, I started to get excited that I was about to enter such a historical monument.
Adjacent to the Colosseum is the Roman Forum, and just a small walk down the road is the Altar of the Fatherland, which is a monument to the first King of Rome, Vittorio Emanuele II.
After walking by this monument, we kept walking and just making our way though the streets. We came to what we thought was a rather secluded area and came across a fountain. I took a picture because I thought it was nice and we moved on. This is that fountain:
I guess we all thought that it would be more out in the open, or that it would be part of a huge piazza, but I guess not. The Fontana di Trevi is kind of hidden. It wasn't until a bit later when we were walking around wondering where it was, that we realized that we had passed it already. Whoops. So on the way back to the hotel, we walked by the fountain again and threw our coins in and made a wish. It really was more beautiful by moonlight anyways.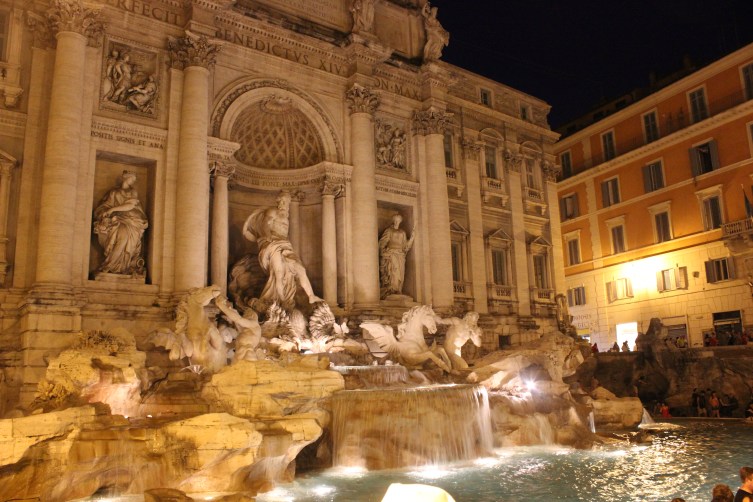 After that, we grabbed a late night bite. I had a Caprese salad and the most DELICIOUS pistachio gelato ever.
It was the perfect end to the night -so creamy and rich with delicious pistachio flavour. I could have had about 3 more bowls.
After gelato it was back to the hotel for a much needed sleep.
In the coming days we headed to the Vatican, The Spanish Steps and Marino so stay tuned for those pictures! Also, let me know if you've ever been to Rome!
xo, tess.

11 responses to "TBT - Italy | Rome"